birthplace
THE JEROME K. JEROME BIRTHPLACE
(formerly the Jerome Birthplace Museum)
The Phoenix Rises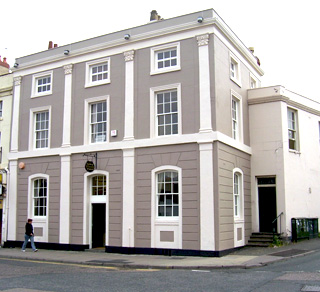 Jerome's birthplace is Belsize House, a Grade II Listed building at Bradford Street, Walsall. Having fallen into disrepair, it was acquired and restored in the early 1980s by the Society's late and much-missed Chairman Gordon Foster, MBE.
The upper floors were converted into office accommodation, while the two ground floor rooms were retained as a small museum. One of these housed a number of Jeromian memorabilia, including JKJ's uniform from his service in the First World War and a number of lavishly illustrated display panels recording the main events of his life and career. The other was furnished as a parlour of the 1850s to give an impression of the kind of room the family might have inhabited at the time of Jerome's birth.
Over the years, the fabric of the building once more deteriorated, a string of tenants without any interest in Jerome made it difficult for the public to gain access to the Museum. Finally, the Walsall Metropolitan Borough Council, never backward in its lack of support for such ventures, withdrew its grant to the Jerome Birthplace Museum. By the end of 2007 the interior had been reduced to a sorry state and the committee of the Society debated long and earnestly about the future of the museum's contents.
How quickly things can turn round for, in the space of six months, the new owners of the building, Edmunds and Co., solicitors, have done a magnificent job in restoring and upgrading Belsize House. Once more, Jerome's birthplace is looking worthy of its name. Edmunds and Co. are prepared to allow public access for Jeromians and anyone interested in JKJ. They have installed in their waiting room the fine copy we have of the de Lazlo portrait of Jerome, and there is a Jerome display in the reception area. The firm is keen to continue the Jerome connection, including links with the Jerome K. Jerome Society. In September 2008, a blue Heritage plaque was fixed on the building.
The Society is seeking (and is close to finding) a permanent home to display the other exhibits from the former Museum.